THE MOST IMPORTANT THING YOU'LL EVER WRITE…
No, I'm not talking about a bucket list or a will, I'm talking about Angel Letters – precious words written to your children for life's important milestones and occasions, whether in the past or yet to come. But, I don't mean recording their birthday gifts or first words (although these are important). I'm talking about real words direct from you to them. Writing to them about the first moment you ever saw them and how it changed your life forever, and all of the moments in-between and yet to come where you were or will be so proud of who they are.
It's a guide that shows you how to create a legacy in print forever, and how to make it as raw, real and impactful as possible. A supporting shoulder and some guidance that shows you exactly how to tackle the task of writing the impossible – the words you most want and need to leave for your kids. It's tips, tricks, printed envelopes and an embossed box for you to record and store your thoughts. But, it's also a safeguard. Let's just go ahead and call it your emotional insurance policy – because God forbid you can't be there to share in these milestones with them, at least you'll know your words always will be.
MY CAR PARK LIGHTBULB MOMENT…
When I was 6 years old, I lost my father to cancer and was left with none of his words or wishes for my future. I have spent most of my life wondering what he thought or would've said, but also searching for the "thing" I felt I was meant to do. Everything I looked at, dabbled in or researched always somehow seemed to be connected to the loss I experienced as a child. I looked at nursing, counselling, volunteering at hospices, always trying to find that place that filled that void. But, one day in my work car park my lightbulb moment happened out of nowhere and Angel Letters was born. It became my mission to be the voice for children and make sure that they are not left without the words of a parent, whether their loss is expected or unexpected. I knew I wanted to make sure that whether they were 6 like I was, or they were lucky enough to be with their parents until they were 50, they would always have their words with them and have something to hold onto.
HOW THIS WILL CHANGE YOUR CHILD'S LIFE…
If you've ever watched your child's face light up when you utter the words "I'm so proud of you", then you'll understand just how much impact your words can have on them. But, even now as an adult, I want you to imagine just for a second that your own parent just gifted you a box. You open this box to find letters, letters they've taken the time to hand-write personally to you. You open the first one and they tell you all about how they felt in that very first moment they laid eyes upon you. You open another and it's your first day of school, oversized dress and clung to their leg. It continues with each letter…your graduation, wedding day. These special moments detailed in a way only they can explain, a raw emotion that's yours to keep forever and something nobody can ever take away from you.
Now imagine reading one of these letters at an occasion they're no longer able to be at, because their time was cut short. Imagine reading their thoughts and wishes for you. Imagine reading how proud they are…
This is the gift you can give to your children…
WHAT'S IN THE BOX?
Angel Letters includes envelopes and pages for you to write to your children about 8 special life occasions and comes complete with a beautiful embossed keepsake box. Each occasion also comes with a letter from me to you – a guide about what you might like to include, some hints, tips and excerpts from my own letters. It's the spark, inspiration and memory-jolt you need to make it easy!
WE ALL HAVING A BUDDING AUTHOR WITHIN US…
If you're sitting there thinking writing just isn't your thing, I'm here to tell you that it can be. The trick with this is to write just as you would talk to your children, because it's all about it being from you! Write from the heart. Don't be afraid to make a joke or tell a story – these are precious memories!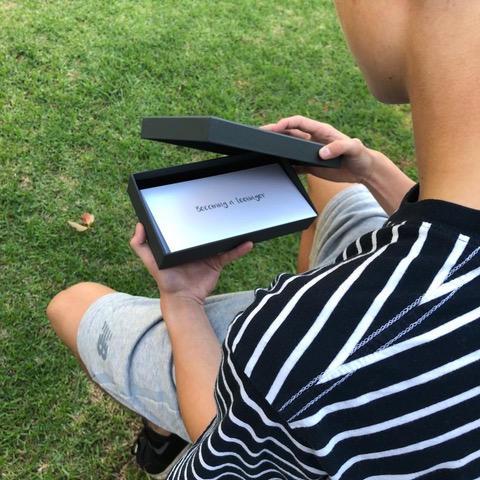 YOU HAVEN'T MISSED THE BOAT…
The best thing is that it absolutely doesn't matter how old your children are. You can start your own Angel Letters box when your child is a newborn and take the journey from the start. But, you can equally start it when your child is 12, 16 or even 25. These are moments and occasions that you can write about no matter how long ago they were or how far away they are. No matter how old they are when they receive their Angel Letters the words you have written will mean just as much. Reading these after you are gone will only add extra meaning to them for generations to come.
ONE BOX, FITS ALL…
No matter their age, no matter your circumstance, this is a gift only you can give to your children and it's something than can be done by any and every parent. Our children will always want our support and guidance. Don't ever underestimate just how much a few simple words could mean to them.
INSTAGRAM: @angel_letters