Can you juggle?
It's a tricky skill that takes concentration, patience and practice. Start with one ball, hand to hand. Add in another…concentrate. Then another. Now it's getting hard. Here's a 4th ball. Wait, a fourth? How??
Now imagine that each of these balls represents an area of your life.
Your first ball is your career. Hand to hand, seems like you've got that under control.
Married or in a relationship? Here's your second ball to add in.
Kids in the mix? Welcome to ball number 3. By the way, it looks like your struggling to keep momentum now, so here's your health ball. Good luck, keep it up.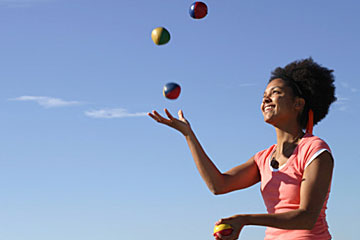 If you had to drop one of these balls to keep momentum, which one would you pick? Usually your own health is the first to go while you focus on everyone around you. What if you could merge two of these balls together, and still challenge yourself and grow at the same time?
Working out with your spouse is a great way to build your marriage, and get on top of your health to stay active at the same time.
Willard F. Harley states in his book "His Needs, Her Needs" that men's number 2 NEED in a marriage is a recreational partner. Great timing…because you just dropped your health ball.
Juggling work and marriage on its own can be tough. Once children come, you barely get to talk. Looking after your health becomes a struggle for both of you. So work on it…together! He gets a companion to exercise with, you get back some quality one on one time together again. Its not competitive, its happiness.
You both get to keep on top of your health, because not only do you want to live a long happy life together, but your kids need you both to be around for a long time too right? Personal trainers offer great rates for 2 on 1 sessions, and its only about $15 more than a solo PT session, so take advantage of it together! Find a mobile trainer like NiftyPT that will come to you in the convenience of your own home or nearby park and you don't even have to add in the 5th ball of time management. Juggling life just got a little bit easier and your relationship just got a little bit stronger.
Win! Win!