1: PureFree IS A WONDERFULLY LIBERATING NAME. HOW DID YOU NAIL THIS NAME?
Coming up with the name PureFree, actually took a long time! The name needed to tick a lot of boxes. It had to convey the benefits of the product, not limit us in terms of where we might take the brand in the future, it needed to work across retail and corporate markets, and of course be available as a URL. I did quite a bit of research, brainstorming with friends, short listing and eventually settled on PureFree.
It conveys two of the key benefits of the product to our customers and the environment:
1: Drinking from glass delivers a more pure, clean taste, and your water is free from the chemicals, residual tastes and smells that come with alternatives like plastic or stainless steel. And 2: in terms of the environment, moving away from 'single-use' plastics to reusable products means our environment is kept more pure and free from waste.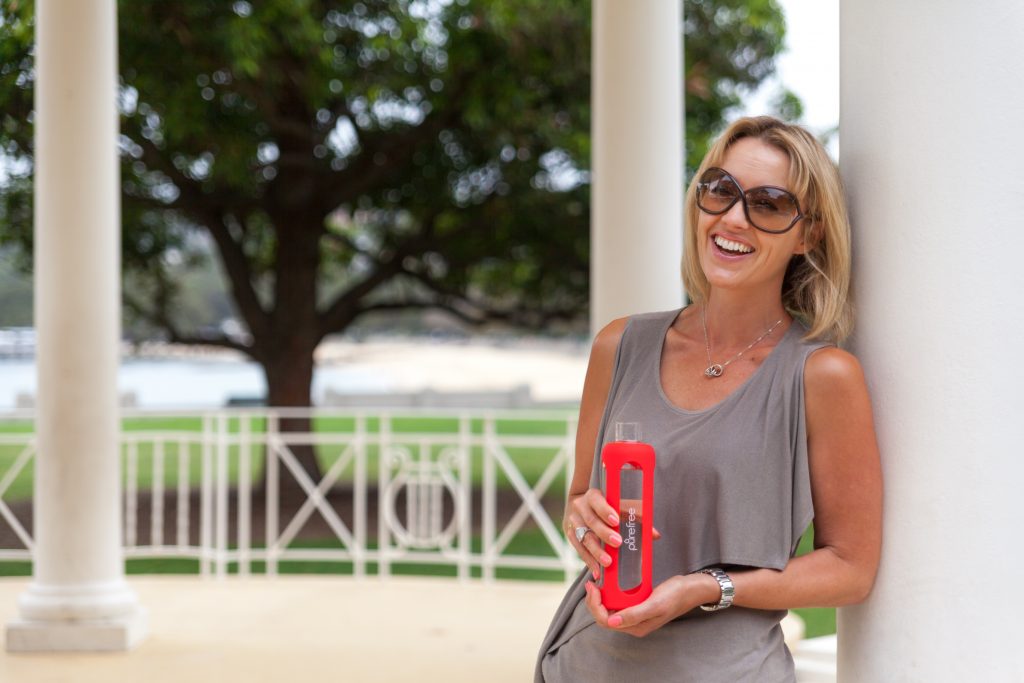 2: THERE IS SOMETHING WATER IN GLASS COMPARED TO PLASTIC. IS THIS A BIG SEELING POINT FOR YOU?
Definitely. In addition to advocating 'reusable' products, it's what our business is based on. We sell only glass water bottles because glass is the optimal choice for:
Your Health – Glass doesn't contain BPA or any other potentially harmful chemicals which are found in some plastics. These chemicals can leach into the contents of your water bottle, especially if the bottle is left in extreme temperatures, such as in your car on a hot day, or if you wash your bottle with hot water. Heat has been shown to accelerate the rate of chemical leaching, as does scratches in the plastic, leaving BPA and other chemicals to mingle with your water. Single-use bottles are designed for just that – single use. There's plenty of research available on this – you should never reuse one of these bottles! Glass keeps your water free of chemicals, and your bottle can be washed in hot water to properly clean it. PureFree bottles go in the top shelf of the dishwasher too, without needing to remove the sleeve so it's very easy.
Your Taste Buds – everything tastes better in glass! Your water stays clean, fresh, pure and, as glass is non-porous, it won't absorb germs or residual flavours like plastic and stainless steel, which makes your water safer, and better tasting.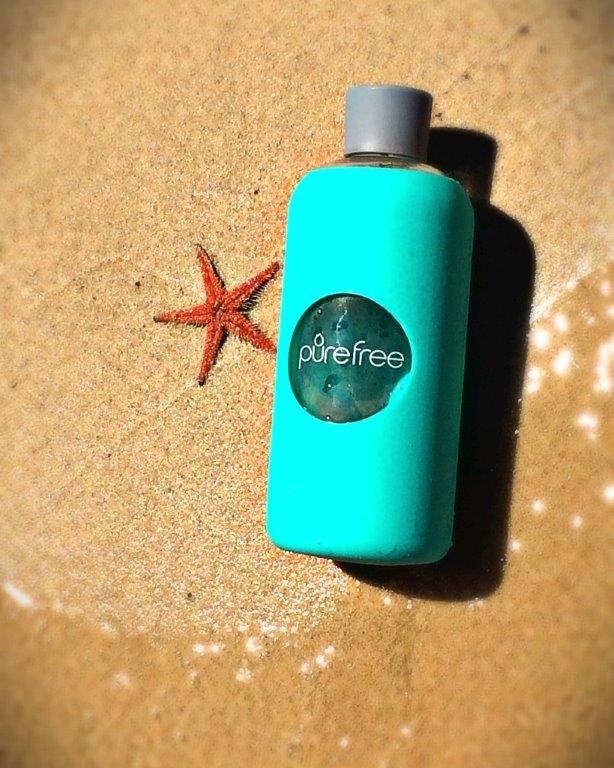 Our Planet – Single-use plastic bottles are an environmental disaster, not only in terms of the devastating effect they have on our oceans and land, but also in terms of the resources used to produce and distribute them. In addition, although they are promoted as recyclable, less than 40% ever make it to a recycling bin. Most just end up in general waste and will literally be here in landfill or our waterways for hundreds of years. A reusable glass bottle means you can avoid buying single-use plastic water bottles, you can save your money and do your bit to fight the "war on waste".
3: WHAT TREND DO YOU SEE WITH WOMEN AND DRINK BOTTLES?
I think women will continue moving toward reusable water bottles and will, in increasing numbers, prefer glass.
Why?
In my experience, the topics of Health and the Environment are of particular interest to women and for at least the past decade there's been significant media coverage regarding the use of plastic water bottles, especially those designed for single-use, and the detrimental effect they are having on both our health and our planet.
The choice to buy bottled water, or purchase a reusable water bottle (and whether it's glass, plastic or stainless steel), is therefore increasingly more of an important consideration to many women.
It's also easier for us to move to reusables simply by nature of the handbag! All manner of reusable items (water bottle, carry bags, coffee cups) can live in there quite happily. We're also naturally good multi-taskers and remembering to take these reusables is step 1 in using them!
And, of course, we like nice things. Drinking from glass is much more pleasurable than drinking from plastic or metallic stainless steel. Glass water bottles look nicer and more sophisticated – especially if you match your water bottle with your outfit. They can be a definite fashion accessory !
4: THE BIGGEST CHALLENGE YOU'VE HAD WITH PureFree IS?
Starting a company from scratch has been a huge learning experience – extremely interesting and rewarding, but also challenging. Throughout the journey there have been numerous significant decisions required and one of my challenges has been the lack of someone who is across the entire business in as much detail as me to discuss things, and bounce ideas around, to help make those big decisions. That, plus juggling 3 young, active kids with a start-up business. That's a challenge many business-owner mums would also share!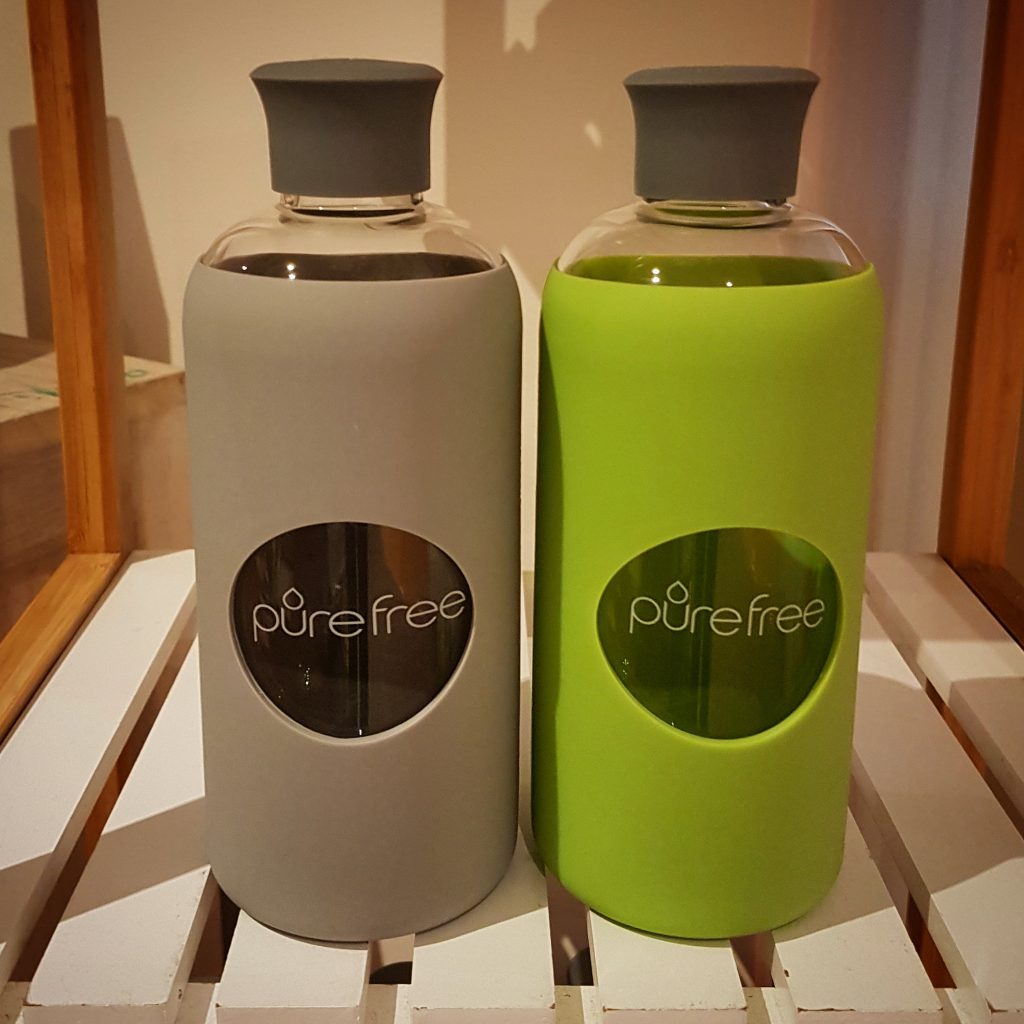 5: IF WE WERE IN AN ELEVATOR AND WE HAD 30 SECONDS FOR YOU TO TELL ME WHAT PureFree IS, HOW WOULD YOU ARTICULATE IT TO ME? 
PureFree is an Australian business developed by a Mum who is passionate about the environment and health. We sell reusable glass water bottles encased in a range of coloured silicon sleeves, enabling you to 'hydrate in style'. Glass is the optimal choice for reusable water bottles as it's better for the environment, better for your health and delivers a far better drinking experience – everything tastes better in glass! The key differentiator for PureFree is the threadless mouth on our bottles, delivering a far superior drinking experience. The bottles were designed not only to answer an environmental problem (waste generated by single use bottles) but to be a beautiful, high end product that would be cared for and looked after.
We sell retail, wholesale and offer custom branding to companies who want to keep their brand top of mind with customers and staff, via a premium, eco-friendly product which will be used every day.
6: THE BIGGEST LESSON YOU'VE LEARNT STARTING A BUSINESS IS?
To be successful, you need to do something that you're passionate about – and back yourself. Stay focussed on the vision. Listen to others but trust your instinct. Don't expect it to be easy. Big companies don't start big, and they are not immune to set backs. The founders were undoubtedly exhausted at times and spent some days wondering why they didn't just sit by the pool instead (ha ha), or work for someone else and let them have the headaches.
It's all worth it when you see your dream come to fruition though.
7: HOW POWERFUL IS HAVING WOMEN SUPPORT, ENCOURAGE AND SHARE THE VISION YOU HAVE? 
It's hugely powerful. I am such a fan of women backing women and collaborating. I'm a pretty social person and really enjoy working as part of a 'team' and that's what it feels like when women support each other. It makes it far more enjoyable.
I love that I can be myself and get that honesty, understanding and generosity back in return. And I do love a laugh and women are good for that. I also love wine, and bubbles!  I love it when women share my passion for the environment and health, and understand why I am doing this, and I am so chuffed that they love the bottles and I see them being used every day.
WEBSITE:
FACEBOOK:
www.facebook.com/PureFreeGlassWaterBottles
INSTAGRAM:
@purefreebottles