Are you newly pregnant? Trying? Or perhaps nearly due? (If so, HUGE congratulations!). Have you ever looked at those flawlessly dressed women in beautiful pregnancy clothes and, not only how they glow in their skin but also how they step out?
Guess what? They all walk through what you are, those swollen feet will come, that bloating feeling, that widening and thickening of the hips and stomach. The difference is they know how to style their bump and growing body the best way possible.
It's my fourth pregnancy and this time I was determined to be not only comfortable throughout the last few weeks of an Aussie summer but wear clothes that suit my growing body, that are function-able and that I feel so wonderful wearing. I researched, I asked lots of great stylists and I did a lot of looking at what worked and what didn't. I wanted my husband to say "Wow you look lovely" instead of him seeing me in over sized pants and big baggy tops as in the past few pregnancies.
SO, whats the key to pregnancy dressing?
1: Go block colours. You can accessorize this with a bright lipstick or a big piece of jewllery and you'll look simple and stylish. A lot of women think the more patterns the better but it actually draws attention more to your changing body. Now don't get me wrong, embrace this, but a block colour will always make a woman standout. I went for greys, navys, whites, blacks and rotated throughout the whole pregnancy.
2: It doesn't have to cost a fortune, I've discovered great brands online and bought at times when specials are on. Instagram also grabs your attention. House of Cannon, Asos, Kit and Ace, Mavi, Seed, and Country Road have all been incredible with maternity outfits that look the part and you will be able to wear after.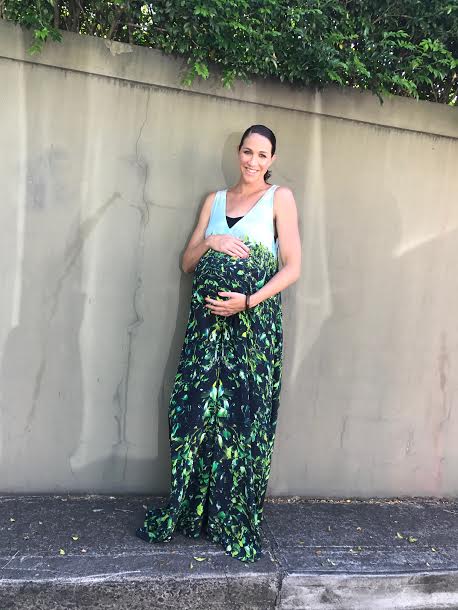 3: Don't wear lines that run across your body or belly. This rule is general as horizontal lines will always accentuate a women's bust, bottom or growing baby bump. Look for lines that are vertical and run down your body. Don't be fooled by the "maternity shops" that sell tops that flow out, this again just makes your body look bigger than it is. Target, Kmart and Cotton On body have great singlets and low v-neck tees you can easily wear through pregnancy without paying the maternity price tag…and they look better too.
4: Finally, work on what you know works! For me, I knew long flowing maxi dresses, tops that are extra in length all worked because it meant I could happily hide my SRC pregnancy tights and shorts underneath, it also meant I could cover up anything that was swollen!! I could protect my back and pelvis but also cover them up in a outfit long enough! Have fun dressing during pregnancy. It's a short 9 months but you can look beautiful…always.