As women, we are always multi-tasking…working, raising families and finding precious time to be social. Without a healthy mind, body and soul, these priorities would be near impossible to maintain. This is why exercise is king…or queen, in our instance! Which leads to the very popular subject of Activewear/Athleisure. Gym gear, particularly tights, have evolved to become a fashion staple with loads of brands and styles to choose from. Being the hopeless activewear addict that I am, I have literally tried on hundreds of styles. Attempting to shove my 'glutes and hammies' into a pair of skinny tights is almost an exercise session in itself!
Here are some of my findings:
NIKE: Iconic brand. Tanks & tees are okay, but sometimes they don't sit right. Most of their tights are somewhat flimsy and don't feel particularly supportive. They don't have the all-important 'suck it in' shaping factor that I like. However, the lighter fabric can be okay to wear when working legs and lifting weights.
RUNNING BARE: Always colourful and lots of bold prints. At times, too adventurous for my liking. Selecting a few fun striped or leopard crop tops to wear under your more muted tanks can look fun and brighten up a dark ensemble. I've found their tights to be difficult as I am a petite size 8 and feel they bunch up around the crotch. Another pet hate of mine is the little icon on their garments can sometimes peel off…in which case you are then left with an undesirable white blob on your tee or tights.
UNDER ARMOUR: Tights are slightly flimsy, I wouldn't run in them, but interesting on-trend prints and colours. Tees & tanks fit well, there are plenty of styles to choose from and they are all reasonably priced.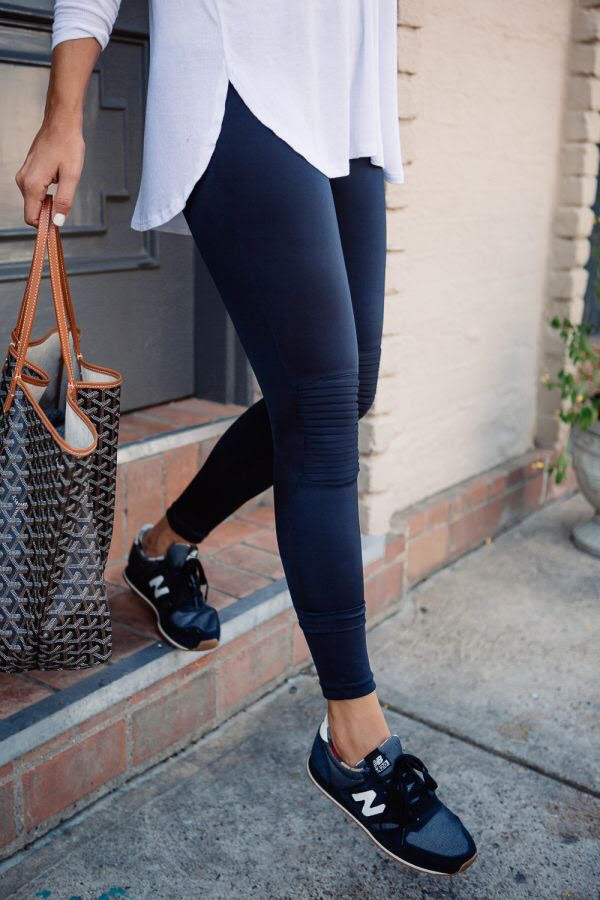 STELLA McCARTNEY: Lots of fun bright colours. Again, a go-to brand to style up your basic ensemble. An over-sized, perforated navy and pink jersey can give an edge to a muted look.
UPSIDE: Great prints, fun colours and designs. However, their tights feel slightly restrictive, supportive in some areas, but not in others. If you are looking for a bargain, you won't find it here! A pair of their latest tights can set you back $140!
PE NATION: A new, fun brand with a distinctive retro look and feel. Again, a selected few pieces mixed in with some more of your basics can look pretty smart. Price point still $$ though, tights are around the $120 mark.
BRAZIL WEAR BIZ: Never judge a book by it's cover….they have an understated presence in the active wear world, however, for me, they carry one of the most comfortable, supportive, 'suck it in' shaping tights in the market. These Brazilians are onto it when it comes to body shaping! Their tights are mostly made with supplex, a very cool fabric that doesn't feel like you've wrapped your legs up with glad wrap! The stretchy, cotton breathable fabric makes them the only tights that I can bear to wear during the heat of summer! They are also the only pair of tights that I feel comfortable in when running, as I feel totally supported. Love them!
Mel Rose