Only a few people know that my mother was a fashion designer. She won many awards through Concourse d'Elegance (which is now the RACQ awards in QLD) so of course I grew up being styled, fashioned and had my own bespoke wardrobe.
The truth is, at age four, nine and thirteen…I didn't like it. It brought attention to myself wearing a black and white polka dot extravaganza to John Farnham's concert at Twin Towns…to which I would have preferred, as a pubescent young miss, to stay in the shadows as I passed my awkward stage.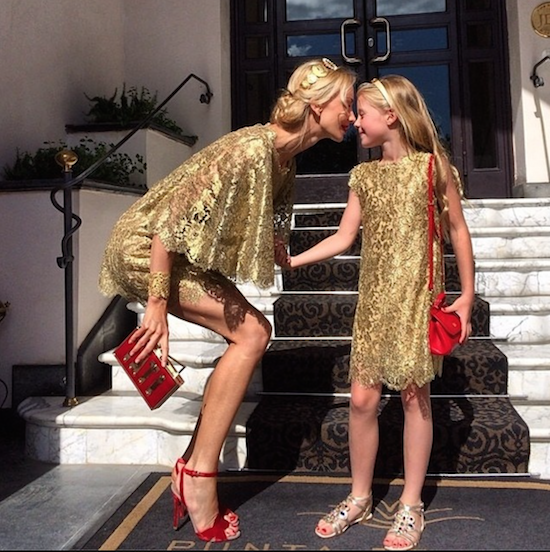 Yet…
Fast-forward to 2017 and yes, there are plenty of high-level celebrities and modern mother's alike, who are loving this trend where a mother dresses in the same attire as their little girl/boy. But what does it do emotionally to our little ones?
The same-sex parent is of the highest importance to the child. Any parent will tell you this. So if you notice your daughter walking like you, talking like you and vocalising road rage like you, then there's no harm in being the great mum you are and getting matching outfits. It's not the first time in history that dressing similar has been in the limelight. Take twins for example, commonly dressing in identical outfits for no reason at all.
Dressing like your little miracle gives her a massive boost of self-confidence. Life is fun to her and mummy dressing in the same colour or outfit, also instils in her that you're on her side, you're participating in her life and little game and it becomes an event, which of course, when she's distracted like this, she'll usually be on her best behaviour!
To accommodate this trend, many small online businesses are popping such as Ella and Eman.
http://babyology.com.au/fashion/special-occasion-mother-daughter-dresses-from-ella-eman.html
Stores on Etsy:
https://www.etsy.com/au/search?q=mother+daughter+matching+dress
And Lovely Dovey: