After having my daughter I went on a 'get fit and healthy' kick in the hopes of regaining my pre-baby body and some of my somewhat shattered self-confidence. The only problem was, none of my previous modes of exercise were going to work. Who would watch the baby while I sweat it out at the gym for a few hours? How would my milk supply respond to intense cardio? How would I ever have the energy to actually load up the car and get to the gym?
So I jumped on the 30 minute HIIT home workout band wagon. At first I was sceptical it would even work and a part of me resented that I couldn't just go and slog it out at the gym as I used to. Despite my worries I gave it a go and it was AWESOME! You don't have to stress about rushing out the door at a certain time regardless of how that fits with baby's sleeps and feeds. You can work out in your pj's, and best of all you have the cutest little workout buddy who will provide more motivation than the scariest boot camp instructor ever could.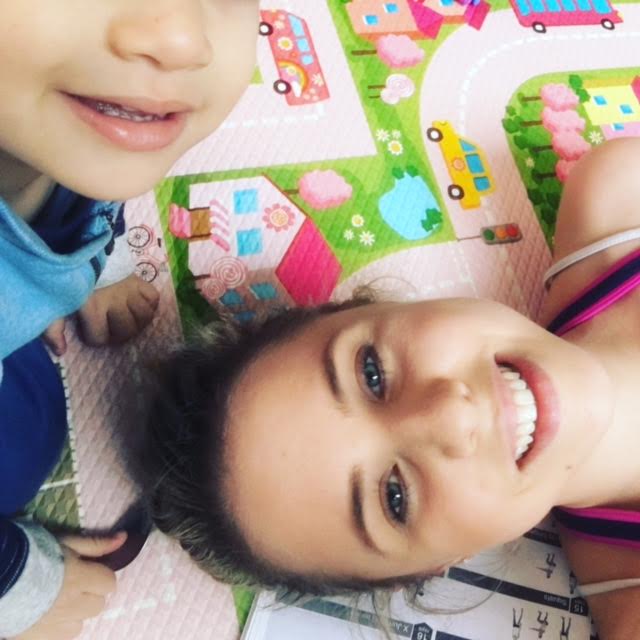 Being a mum you seem to have guilt over everything and every decision you make, especially those around your own needs. Working out from home really helped me to balance this nagging feeling of guilt and the need to do something for myself. If my daughter slept in I could punch it out early in the morning, if she had a tough day and needed her mummy all day I could fit it in late at night once she was (finally) asleep. If all else failed I would pop her in my trusty baby carrier and use her added weight to intensify the training.
Like everything in life, and especially mum life you need to work on balance, compromise and positivity. It can be really easy to fall into a negative head space when your body no longer looks and feels like your own. You build resentment towards that and the fact working out can be so difficult. Alternatively, you can look at this amazing little human you have created and thank your body for all it has done to bring this baby into the world and treat your body with love and respect.
Please do not ever feel bad for taking that time to workout. A happy, healthy mummy is paramount and what's more, you are actively modelling a healthy relationship with your body and exercise.