1. First thing in the morning when you wake up, do you look at your phone? If so, what do you search?
It's usually to silence the alarm. Then I have two sleepy teenagers to wake. It often takes a few attempts!
Once they're up I'll head to the kitchen to fire up the coffee machine, start lunches and while I'm peeling apples and cutting sandwiches I'll glance at emails and news sites. My dad text messages me every morning around 7am to check in.
2. Are you a coffee or tea drinker and what kind?
Coffee. A piccolo. No sugar. I make my own and love nothing more than the smell of freshly ground beans.
3. You always imagined growing up you'd be?
There was a moment I wanted to be an astronaut. Then a vet. But from about 14 I was set on journalism. So many stories to tell, people to meet, questions to ask!
4. Sunrise gave you the chance to move forward…
…in so many ways. Advancing my career…I was 27 when I first sat in the seat.
But more importantly the chance to create a show. We were able to make a show so very different to what we'd traditionally seen. We could be slightly more relaxed, foster a familiarity with viewers, and campaign for issues that mattered to us. We stood up for issues – and that is what I am most proud. I like to think we had heart and soul.
5. When women are negative it makes you…
Disappointed. Mind you I am when men are too.
But I'm also mindful that everyone has things going on…maybe someone has just had a really bad day and they feel better lashing out. 
6. When women support one another you…
Appreciate it. A lot of women claim to support the sisterhood but…well actions speak louder than words! I love the phrase – you can light another candle without extinguishing your own flame. 
7. One thing you keep close to your chest (until now is)…
I can get too emotionally attached to some of my stories. I take a lot home, shed a few too many tears. But I'm grateful I still experience those emotions and haven't become so hardened by what I've seen over the years covering news. You tend to see the best and worst of human nature. But some stories have affected me deeply and there are many people I have stayed in contact with.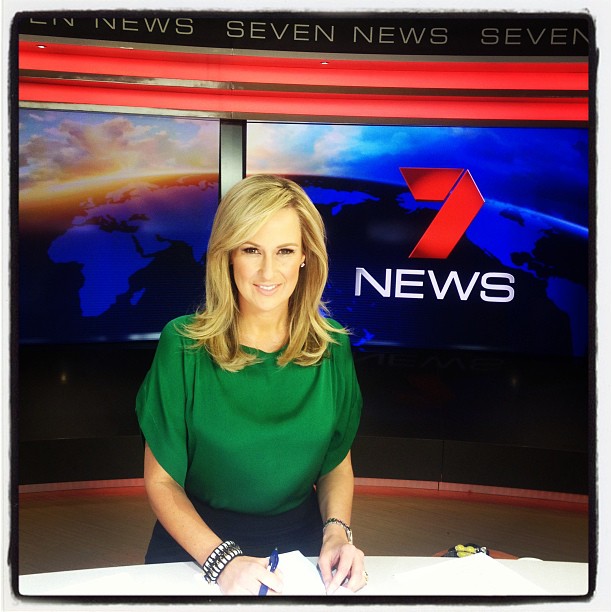 8. To all those women who are negative on social media you'd say…
Why? Does it actually make you feel better? People read that stuff! I manage my own social media so I read it all. Why bother wasting your time to say something nasty. If you don't like me or what I do, don't follow me! 
9. If you could express one piece of QueenHood advice to working women you would say…
Put your hand up and ask for help. It's a sign of strength not weakness. We actually can't do everything.
Build your own little network of support and more often than not, when you ask for help, someone will be so relieved that they can now call on you too.
Can I make it two? The other is to go easy on yourself. So what if the house is untidy, or it's a BBQ chicken for dinner. Don't stress over that stuff. Give your kids your time. They don't care if you haven't done the ironing. 
10. The never ending quest for balance between work life and family life you take on by…
Rather than balance I say priorities…and they change, depending on where you are in your career, your relationship, how old your children are.
I've never actually nailed it, but I do my best each week. Sometimes I cruise through. Other times I go down in a tearful ball of flames.
My husband tells me to "control the controllable" and that makes so much sense.
I do like to be organised. When I was working on Sunrise and waking at 3am, deciding what to cook for dinner each night used to do my head in. Minor I know, but by 6pm I was so tired I couldn't think straight! So planning the week's menu on a Sunday afternoon and having all the groceries in made that night time witching hour just a little bit easier. Find your weak point and make it easier for yourself. The more organised I am to start the week the better I'm able to cope if it's manic. 
11. Leading the Sydney Cafe Siege you…
Were so acutely aware of the media's responsibility to inform the public but not fan the flames of fear. It was not the time for any form of sensationalism or speculation. My job was to disseminate information and keep people calm – mindful the gunman may have a tv on in the café, families of the hostages were probably watching, as were already frightened children. 
12. Being a leader and an icon to Australian women gives you the opportunity to…
Hopefully lead by example. As so many other women have done who I have admired. Work hard, do your best, be professional, aim high, adhere to your principles, enjoy the ride, make a difference and stay true to yourself. 
13. The legacy you hope to leave is…
I have been so privileged to give voice to a number of charities that mean a lot to me. So I hope I have been able to make a small difference there.
And be kind. I hope I have always conducted myself with dignity and compassion.