The one thing I love about the New Year is that you can get inspired to rework the way you wear things, instead of buying new fashion items. This technique comes in handy especially if you've had a tight budget over Christmas, and taking a long hard look at your wardrobe starts to show a pattern of who you are, how your lifestyle affects your clothes and also, if you genuinely need a garment collection upgrade.
To get inspiration for this, Fashion Week has a ton of styles that accommodate fresh ways in wearing the basic garment.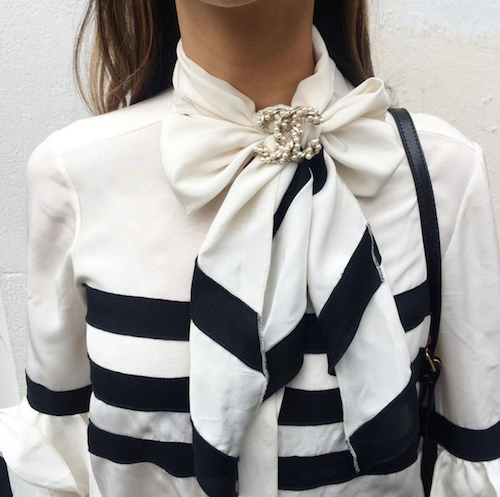 Take the humble handkerchief, neckerchief or scarf. I've discovered new ways to do this by adding in a sophisticated brooch. I know, I know…the word brooch makes you immediately think of the Queen, alas – you are one!
Double tie a scarf around your neck, and right next to the knot, pin your brooch. Voila!
Next, I recall doing a job for a women's glossy magazine this year and it had something to do with 5 ways to tie a kerchief. I was itching to get the model to have a scarf tied around her ankle as she was wearing some cool shredded jeans…but had to bite my tongue as I was not employed as the stylist at that shoot.
Get your 35cm scarf and tie it around your ankle. That will be a conversation starter!
Hair – oh yes, if you're a mum, this is the one area of grooming that has gone out the door. For me, it is a constant 'top knot', but I love the way this fashionista has added braids in the base of the knot. Super chic!
Ladies, if you're feeling kind of sexy for an evening date with your hubby, then with your more conservative attire, add in a lace bra and undo that button that you're always freaking out is going to undo at a board meeting. You know the one, and as not to draw too much attention to your cleavage, add in a high gold necklace to bring the eye line back to the décolletage.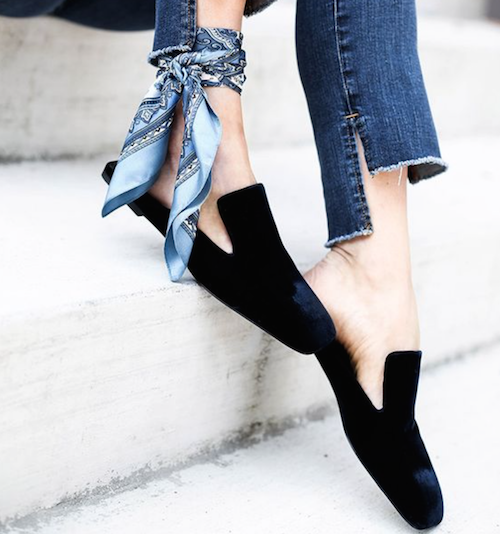 And finally, another simple and utterly beautiful way of making a piece stand out, is to add a ribbon around your neck as a chocker, and also around a sweater cuff or shirt cuff instead of links. This is a very French way to dressing; simple, elegant with no effort. Voila!